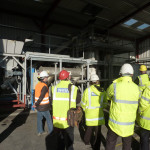 AD Technologies Limited offer process expertise for optimisation, assessment and operational improvements of treatment plants:
Assessment of anaerobic digestion plant performance and benchmarking.
Process troubleshooting and debottlenecking to maximize existing plant throughput.
Specialist sampling services.
Laboratory facilities for determination of composition of feedstock (Total and soluble carbohydrates, proteins, lipids and fibres)
Lithium tracer testing to assess digestion mixing efficiency .
Gravity and mechanical thickening improvements.
Sludge dewaterability and stackability assessment.
Process compliance investigations and HACCP assessment.